ONAM 2023 – Colours, Cuisines, and Celebrations  
It is that time of the year in Kerala when the streets buzz with excitement, and the air carries the delicious scent of festive Malayalam cuisine. Houses come alive with vibrant Pookalam – flower rangoli. 
Yes, you guessed it right. It's Onam.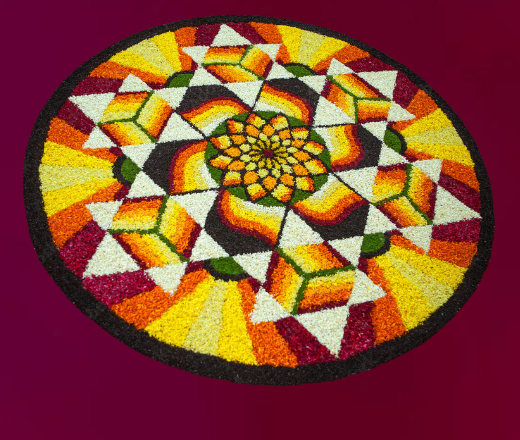 As the calendar flips to the month of Chingam (August-September), Kerala transforms into joyous and lively colors. Let's delve into the colorful festival of   Onam, exploring its celebrations, significance, and mouthwatering food of Kerala that adorn the festive table.
Onam story –
Onam is a harvest festival in the state of Kerala in India. The earliest recorded mention of Onam dates back to the 9th century in the Sangam Era of Tamil literature. The Perumpanarruppatai, a collection of poems, describes the festival's celebration in ancient times.
This 10-day-long festival also commemorates the return of the mythical King Mahabali, whose reign is known for prosperity, to his people. 
"Maveli Nadu Vaneedum Kalam, Manusharellarum Onnupole": This line is taken from a popular Onam song that praises the reign of King Mahabali. It means "When Maveli ruled the land, all people were equal," highlighting the prosperous rule of the King and his popularity among the subjects. 
Onam marks the beginning of Kolla Varhsm, which is the Malayalam new year. Women wear a traditional Kerala saree called Kasavu saree and men wear dhotis.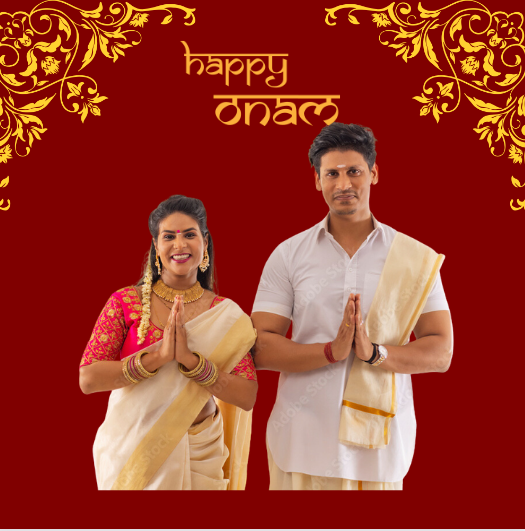 How is Onam celebrated?
Onam Sadya – 
Onam is more than just a festival, it's a feast for the stomach.
With a vast list of 26 vegetarian items, Onam sadya is literally what it means "a feast." The dishes are served on a banana leaf and the food is enjoyed by family members together on the floor.  

some of the items included in Onam sadya are- 
Pappadam – These are thin and crispy wafers made from rice flour.


Upperi

– Banana chips made from ripe banana

Sharkara Varatti – It is- a sweeter version of Upperi and is coated in jaggery syrup and mixed with cardamom and ginger.

Pachadi

– It is a yogurt dish and the curry is made from vegetables or fruits like pineapple or bitter gourd.

Rasam-

It is made with tamarind soup and flavored with curry leaves and tomatoes.

Avial – It is a mix of vegetables (generally 13) cooked with yogurt and coconut, and has a creamy flavor.


Thoran

–

Various vegetables are stir-fried with grated coconut and spices, giving a crunchy texture.


Olan

– delicious mild and creamy curry made with white pumpkin, cowpeas, and coconut milk. 

Sambar

– It is a tangy and spicy stew mixed with various vegetables. Every family tweaks the recipe to suit their taste. 





 

Choru (or rice)

– To celebrate the festival, generally

Malayalis prefer red rice.

          Ellisheri, Parripu Curry, Mango curry, Chenna Mezhkkupuratti….. And the list goes on.
One important thing to keep in mind is that there exists an order in which the dishes are served. It is followed as a tradition.
"Kaanam Vittum Onam Unnanam" – this traditional Malayalam saying translates to "One must have the Onam feast even if he has to sell his property." It emphasizes the importance of Onam sadya which has to be observed, despite challenges.
Onam sadya is a culinary emphasizing the rich history of Kerala's cuisine. Each dish has its own significance and adds to the overall festive atmosphere of Onam.
Festivities – 
People celebrate Onam with Vallamakali (Boat races) and colorfully paint their boats. The Nehru Trophy Boat Race in Alappuzha, is a major highlight of Onam.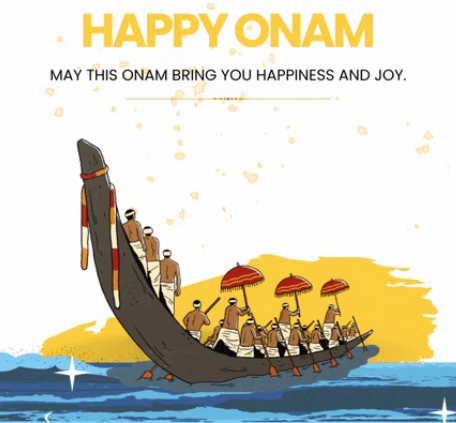 Pulikali (Tiger Dance) – It is mainly performed in the Trichur and Palakkad districts of Kerala. But was initially performed by soldiers as a way to boost morale and showcase their physical strength. Over time, it evolved into a vibrant and entertaining performance. Men paint themselves as tigers and hunters and dance to the rhythm of percussion instruments.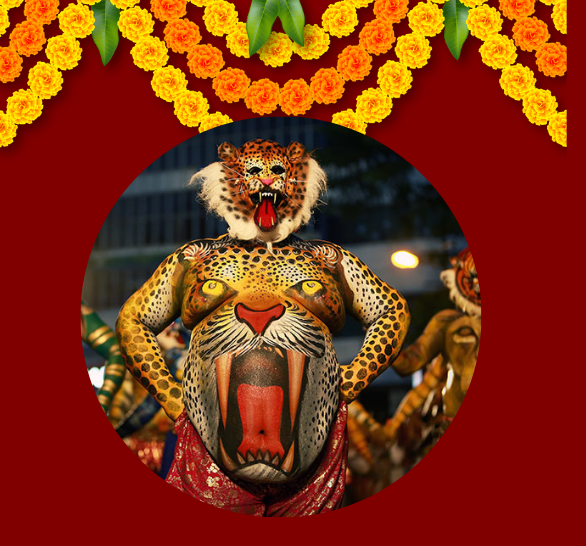 On the day of Thiruvathira, one of the Onam festival days, women perform Kaikottikkali (Clap dance). It is a graceful group dance where they clap and move in circles. 
"Thiruvaathira Nalvaazhthukal" – "Wishing you a blessed Thiruvaathira day." – is a traditional way of wishing during the festival.
Now to answer some of the common FAQS.
Q1. Which is the main day for Onam? 
Ans. Thiruvonam (the last day) is considered the main day. Thiruvonam usually falls on the second fortnight of the Malayalam month of Chingam, which corresponds to August or September in the Gregorian calendar. 
Q2. What is the order of Onam days?
Ans. The order of the 10-day-Onam festival is –
Conclusion –
Onam holds an important and cherished place in the hearts of Malayali people. It is proof of Kerala's rich cultural heritage and exemplary culinary experience.  The decorations, rituals, and flavors of Onam create an atmosphere of joy and harmony that resonates with people of all ages. From Pookalam to mouth-watering Onam sadya, every aspect of Onam is a reflection of the state's deep-rooted traditions.
As Onam draws near, complete your festival preparations with us. Order from us all the ingredients you need for sadya and enjoy Onam with your family. Happy Onam.