The Future of Meal Prep: Embracing Seattle Frozen Food Delivery Services
Are you tired of the never-ending cycle of meal planning, grocery shopping, and last-minute cooking? Well, there's a culinary revolution underway, and it's all about frozen food delivery services. In this blog, we'll take a deep dive into how frozen foods are reshaping the way people plan and prepare their meals, and we'll shine a spotlight on the nutritional benefits of frozen fruits and vegetables, all with the helping hand of Mayuri International.
The Frozen Food Renaissance 
Remember when frozen foods were synonymous with TV dinners and bland microwavable meals? Well, those days are long gone. Today, frozen foods encompass a vast and delicious world of options. From succulent meats and gourmet entreés to vibrant fruits and vegetables, the freezer aisle is teeming with culinary possibilities.

Convenience Meets Quality
One of the key drivers of the frozen food renaissance is the marriage of convenience and quality. Picture this: a busy workday, a packed schedule, and minimal time to devote to meal prep. This is where frozen food delivery services come to the rescue. You can now order a diverse array of frozen foods online, and they'll be delivered right to your doorstep.
Mayuri International is at the forefront of this culinary shift, offering an extensive selection of frozen foods that cater to every taste and preference. Whether you're craving a hearty stew, a delectable dessert, or a medley of nutritious fruits and vegetables, Mayuri International's frozen food delivery service ensures you have access to quality options without the hassle of navigating crowded supermarkets.
The Benefits of Frozen Fruits and Vegetables
Now, let's turn our attention to the unsung heroes of the frozen food aisle: fruits and vegetables. Many people assume that fresh is always best, but the reality is that frozen fruits and vegetables often pack a powerful nutritional punch. Here's why:
Long-Lasting Freshness:

Frozen fruits and vegetables are harvested at their peak ripeness and flash-frozen immediately. This process locks in their nutrients and flavors, ensuring that they remain just as fresh as the day they were picked.
Nutritional Value: Contrary to the belief that frozen means less nutritious, research has shown that frozen fruits and vegetables can retain their vitamins and minerals, sometimes even better than their fresh counterparts, which can degrade during transport and storage.


No Additives Needed:

Because frozen fruits and vegetables are preserved naturally through freezing, there's no need for added preservatives or artificial substances. What you see on the ingredient list is what you get—pure, unadulterated goodness.
Reduced Food Waste:

Fresh produce has a limited shelf life, and it's all too easy for it to go to waste. With frozen fruits and vegetables, you can use only what you need, minimizing food waste and stretching your grocery budget.
Interesting fact 
Frozen food sales went up 21% in 2020 as COVID altered shopping and eating behaviors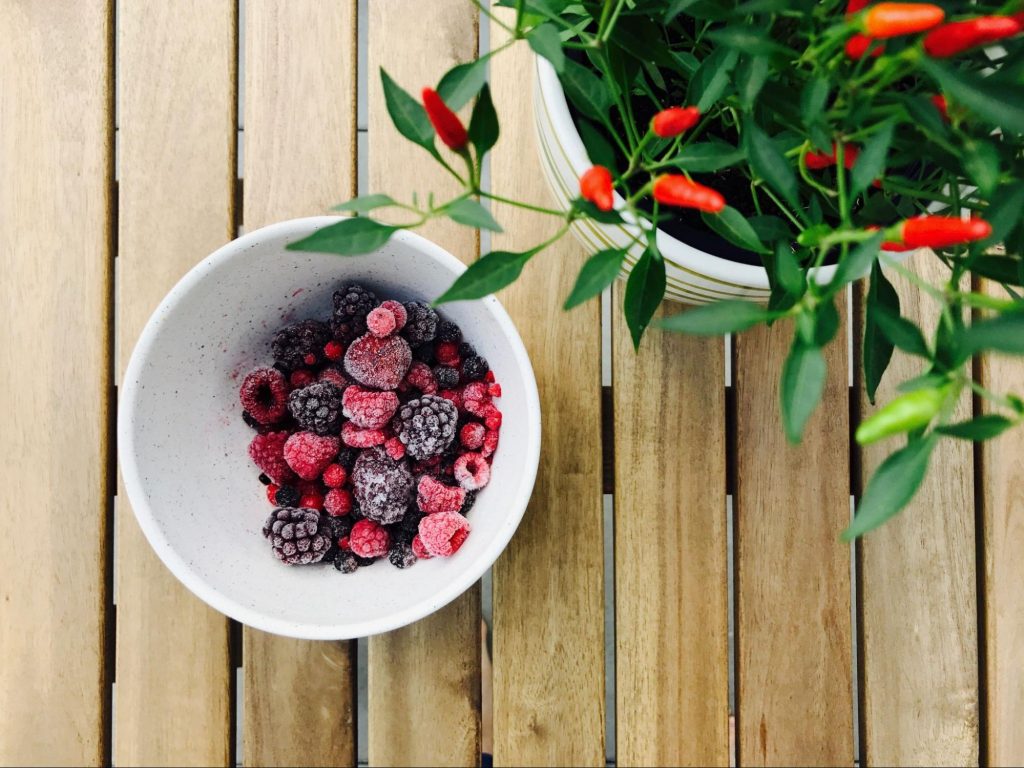 Mayuri International's Frozen Fruit and Vegetable Selection
Mayuri International understands the importance of offering high-quality frozen fruits and vegetables to its customers. From vibrant mixed berries for your morning smoothie to a medley of crisp broccoli, carrots, and cauliflower for a quick stir-fry, their frozen food delivery service ensures you have access to a wide variety of options.
Whether you're looking to boost your daily intake of vitamins and antioxidants or simply seeking the convenience of having nutritious ingredients at your fingertips, Mayuri International's frozen fruit and vegetable selection has you covered.

Sign up for updates!
Get news from Mayuri Foods in your inbox.
The Culinary Landscape of Tomorrow
As we embrace the future of meal prep, it's clear that frozen food delivery services are here to stay. They offer a winning combination of convenience, quality, and nutritional value that resonates with today's fast-paced lifestyles.
So, the next time you're planning your meals, consider the culinary possibilities that frozen foods bring to the table. With Mayuri International's frozen food delivery service, you can elevate your culinary creations, savor the freshness of frozen fruits and vegetables, and wave goodbye to meal planning stress. The future of meal prep is frozen, and it's deliciously convenient! 🍽️🍎🥦
Sign up for updates!
Get news from Mayuri Foods in your inbox.